Premiered at the Brave New Playwrites Festival in Vancouver, BC.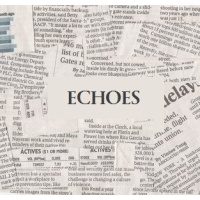 How can an event which has nothing to do with the average person still have such a profound effect on people's lives? Echoes tells the story of three lives drawn together by a worldwide event: a disenfranchised hair dresser whose dreams are not as dead as he feared; a shackled fiancé who remembers when she was unafraid; and a woman who does not care for the political, social, or worldwide ramifications of the event, but only her own surprisingly personal connection to it.
This short piece runs only fifteen minutes, and features two character-actors. Great for political cabarets and acting students, it has long monologues and a lot of interesting questions.