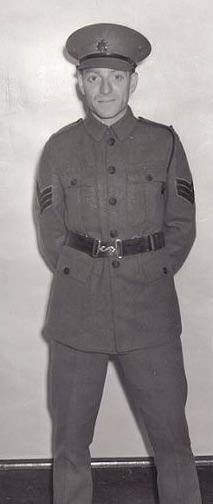 During World War II, my grandfather was one of thousands of Quebec men who enlisted to fight overseas, a position that was especially important to him as a proud Jewish man. His first assignment was with the Victoria Rifles, but he transferred to the Royal Canadian Regiment so that he could ship overseas.
Officially, he was the first Canadian soldier to land in North Africa, as he was the first one to step foot off the boat. All of the soldiers were required to wear their dress uniforms that day, and for Canadians, that meant heavy wool coats on top of long-sleeved wool uniforms. They waited until the last possible minute to get dressed – but there was a delay, and the boat ended up waiting several hours to dock. In the sweltering heat of North Africa, the metal ship was an oven. My grandfather took one step off the boat, swayed like a palm tree, and promptly fell over.
Later, he sent dispatches from the front back to the Montreal Star, and ended the war as a full-time correspondent for the armed forces' publication, The Maple Leaf. He would never talk about his experiences in the war – especially those of the Italian campaign. Instead he told his grandchildren to read "And No Birds Sang," by Farley Mowat. "That was my war," he told us. No need to say it all again.
He is remembered with love.