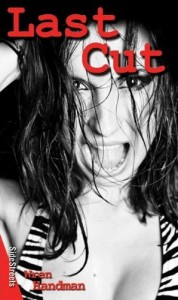 Caitlin Myers's greatest ambition is to be a star, and she can outshine anyone at her school. But then Lianne comes to town and starts to give Caitlin a run for her money, even getting top billing in the school play. So when Caitlin's offered a bit role as the bikini girl in a low-budget slasher flick, she ignores the warning bells (and her parents), lies about her age, and takes the part. It's not long before Caitlin finds herself out of her element when it comes to bossy directors and experienced film crews. Her only way out is to fess up about her age, but if she does, she'll have to come clean to her parents, her friends, and her boyfriend about the things she's done.
[Fry reading level – 3.
Published by James Lorimer & Company as part of their Sidestreets series.
Available now from Lorimer, Amazon, or Chapters! Available in hard cover or paperback.