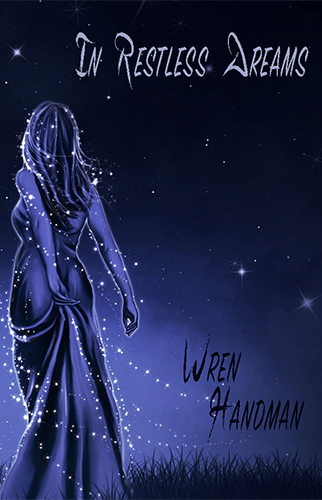 Sylvia is just a normal girl with huge, normal problems – her mother's attempted suicide; how to adjust to life on the Upper East Side; trying to make friends in a rich prep school where she doesn't belong; whether or not to trust the cute boy with the dangerous eyes. She thinks that's more than she can handle, but she tests the limits of her endurance when she learns that she is the long awaited Phantasmer, a human who can change the fabric of Fairy simply by believing in a new story. Sylvia's life is thrown off course as two warring Courts, the Seelie and Unseelie, both attempt to co-opt her gift to fight the other Court, which she has to deal with while trying not to get kicked out of school for fighting. And it doesn't help matters that the fairies begging for her help are both attractive young men – with their own agendas.
In Restless Dreams is available in Canada on Amazon.ca and in the United States on Amazon.com, and all of its affiliates.
Thanks to CBC's The Next Chapter with Shelagh Rogers, the indomitable Shakura S'Aida featured In Restless Dreams as one of her favourite novels featuring a powerful woman.
Reviews:
"Handman has an eye for detail, a good ear and a sense of irony, the tools of a storyteller. She also knows that youth have been traumatised by the post modern world of generational disconnection. Has it ever been harder? Escape is the door that is chosen by many. Some opt for drugs and some for fantasy. For Handman's protagonist, it is both. An inadvertant trip takes her to a portal where "a vision is planted in her brain." and her real life conflicts are conflated with the fairy world where good and evil duke it out. How and will she reconcile these separate realities? Her readers will decide. They are the experts, and their dream is hers." – Linda Rogers, writer and musician.
"Just the right mix of teen angst and fairy 'world building', not to spoil it. A fun tale with characters i would love to follow again." – Josie Boyce, writer. Five stars.
"This is a great take on Fairy, one of the most creative I've seen yet, but what I really loved was the engaging protagonist." – Kali Morrison. Five Stars.
"IN RESTLESS DREAMS will give you a new perspective on imagination, creativity, emotion, fear and loneliness, the burden of memory, of the longing to change who you are." – Hollis Mohring. Five Stars.